Anderson Flowers, Your Local Red Bank Florist
Order in the next
36773
for delivery today!
Need delivery today? Call us, we may be able to accomodate.
---
Featured Floral Arrangements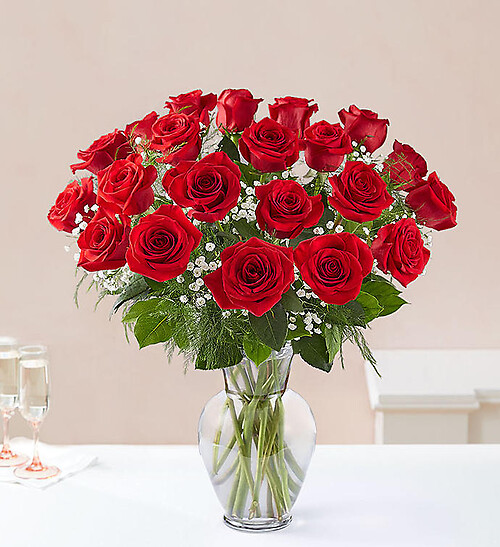 Ultimate Elegance™ Long Stem Red Roses
Our luxurious long stem red roses are the ultimate surprise to say "I love you." Two, three or four dozen radiant bl
143.99
Details »
Cherished Memories - All White
Send a gift of lasting tribute and touching remembrance of a life well lived. This striking, all-white arrangement of ro
95.99
Details »
---
Flower delivery in Red Bank
---
Other items you might like...
---

Jimmy Samayoa
Donna made it all possible within a matter of hours! My roses arrived on time and made my girl a happy wife!! Thank you team!!!
Hannah Zelley
Howie and his team truly knocked it out of the park. My wedding florals were everything I wanted and more. He was so accommodating to all of my different ideas and requests throughout the entire planning process, and made my vision come to life in the most spectacular way. My wedding bouquet, all of the bridesmaids' bouquets, the corsages for our moms, and the boutonnieres for the groomsmen looked beautiful all together. I seriously can't say enough good things about Anderson Flowers. If I had to do it all over again I would pick Howie's business again in a heartbeat. I wish I lived closer so I could order more flowers from him for all of my special occasions! - Hannah & Peter Zelley
---
Nearby Hospitals
Beth Sobol specializes
47 Reckless Pl, Red Bank, NJ 07701, United States
Hackensack Meridian Health Riverview Medical Center
1 Riverview Plaza, Red Bank, NJ 07701, United States
Monmouth Pediatric Group
272 Broad St, Red Bank, NJ 07701, United States
Parker Family Health Center
211 Shrewsbury Ave, Red Bank, NJ 07701, United States
Providential Medical Center
252 Broad St Suite 1, Red Bank, NJ 07701, United States
memorial sloan kettering
50 Foster St, Red Bank, NJ 07701, United States
---
Funeral Homes
Donato-Askew Memorial Home
364 Shrewsbury Ave, Red Bank, NJ 07701, United States
John E. Day Funeral Home
85 Riverside Ave, Red Bank, NJ 07701, United States
Thompson Memorial Home
310 Broad St, Red Bank, NJ 07701, United States
---
Schools
1st stop
Mechanic St & Worthley St, Red Bank, NJ 07701, United States
Akido Of Red Bank
350 NJ-35, Red Bank, NJ 07701, United States
Arthur Murray Dance Studio of Red Bank
140 Broad St, Red Bank, NJ 07701, United States
Fairview Elementary School
230 Cooper Rd, Red Bank, NJ 07701, United States
Goldfish Swim School - Middletown
582 NJ-35, Red Bank, NJ 07701, United States
Gymboree Play & Music, Red Bank
26 Applegate St, Red Bank, NJ 07701, United States
Learning Tree Preschool
247 Broad St, Red Bank, NJ 07701, United States
Little House School
33 E Front St, Red Bank, NJ 07701, United States
MR CPR NJ
3 Molly Pitcher Village Ct, Red Bank, NJ 07701, United States
Monmouth Conservatory of Music
65 Chestnut St, Red Bank, NJ 07701, United States
Neighborhood Preschool & Learn
75 NJ-35, Red Bank, NJ 07701, United States
Noah's Ark Preschool
84 Maple Ave, Red Bank, NJ 07701, United States
Paul Green School of Music
51 Monmouth St, Red Bank, NJ 07701, United States
RBC
112 Broad St, Red Bank, NJ 07701, United States
Red Bank Borough Public School
76 Branch Ave, Red Bank, NJ 07701, United States
Red Bank Catholic Fine and Performing Arts Center
112 Broad St, Red Bank, NJ 07701, United States
Red Bank Catholic High School
112 Broad St, Red Bank, NJ 07701, United States
Red Bank Charter School
58 Oakland St, Red Bank, NJ 07701, United States
Red Bank Middle School
101 Harding Rd, Red Bank, NJ 07701, United States
Red Bank Primary School
222 River St, Red Bank, NJ 07701, United States
River Plaza Elementary School
Red Bank, NJ 07701, United States
Rock'n Music Academy
500 NJ-35, Red Bank, NJ 07701, United States
School of Rock Red Bank
52 Monmouth St, Red Bank, NJ 07701, United States
St James Elementary School
30 Peters Pl, Red Bank, NJ 07701, United States
The Musician's Studio
13 Globe Ct, Red Bank, NJ 07701, United States
Tower Hill School
255 Harding Rd, Red Bank, NJ 07701, United States
West Side Christian Academy
23 River St, Red Bank, NJ 07701, United States